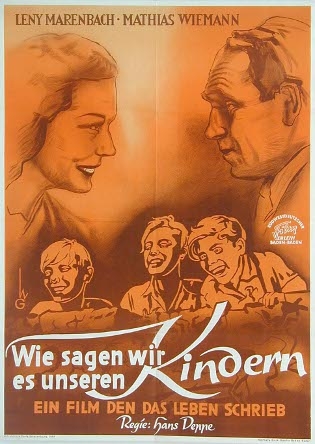 Wie sagen wir es unseren Kindern? / Ehe mit Hindernissen / How Do We Tell Our Children?
Director: Hans Deppe
Stars: Leny Marenbach, Mathias Wieman, Hilde Körber, Ernst Waldow, Babsi Schultz-Reckewell, Edmund van Kann, Jürgen Tusch, Hans-Dieter Gotzmann, Herbert Stetza, Hans Neie, Jürgen Peter Jacoby, Franz Schafheitlin, Alexa von Porembsky
An inversion of the Romeo and Juliet story: two single parents fall in love while their children are involved in a bitter feud. The film was made by the major German studio UFA during the Nazi era, but was not released until several years after the end of the war.
Germany
In German